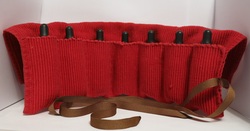 Sorry but we are currently SOLD OUT
Check back periodically to see what we have available
Tincture Travel Bag
It's easy to use herbs when you're home, but traveling with them requires some extra thought. If you are happy with loose herbs, there are generally no issues. Put them in a bag and go. However, if you like to use tinctures then further consideration must be taken.
Tincture Travel Bags makes traveling with your favorite remedies worry-free.
Simply insert your precious tinctures, fold top over, roll and then tie with ribbon.
That's it ~ now go off and explore the world.

These hand-sewn tincture travel bag can store six or seven 1oz. tincture bottles with dropper. In addition, there is one pouch wide enough to accommodate a 2oz. tincture bottle with dropper.

Each bag is approximately 17 inches long and 8.5 inches wide. Bags have a closure flap on top to hold all your precious bottles in, but also have easy quick access.
All Travel Tincture Bags are handcrafted with love.
Machine washable on delicate cycle. Lay flat or line dry.
Tincture bottles not included.

Perfect for storage or travel, this Travel Tincture Bags will fit your tincture bottles safely and securely for easy access.


---